Overview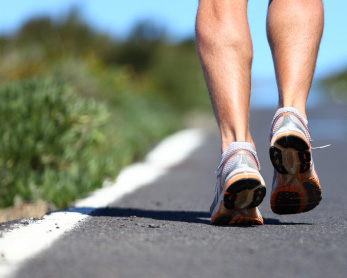 The Achilles tendon is the soft tissue located in the heel which connects calf muscle to the heel bone allowing the body to perform certain activities such as rising on the tip toes and pushing off when running or walking. Achilles tendon tears occur when the tendon becomes torn through excessive pressure put on the area which the tendon is unable to withstand. Tears are most commonly found when suddenly accelerating from a standing position and therefore is often seen in runners and athletes involved in racquet sports. A tear can also occur when a continuous force is being put on the heel through prolonged levels of activity and overuse however this can also occur as a result of sudden impact or force to the area common in contact sports such as rugby and hockey. Although Achilles tendon tears can range in their severity, a rupture is the most serious form of tear and involves a completely torn tendon. This injury is more common in patients in their 30?s and 40?s.
Causes
Repeated stress from a variety of causes is often the cause of Achilles tendon injury. The stress may occur from any of the following. Excessive activity or overuse. Flat feet. Poorly fitting or inadequate shoes. Inadequate warm-up or proper conditioning. Jogging or running on hard surfaces. Older recreational athlete. Previous Achilles tendon injury (tendonitis/rupture). Repeated steroid injections. Sudden changes in intensity of exercise. Use of fluoroquinolone antibiotics (especially in children). Trauma to the ankle. Tense calf muscles prior to exercise. Weak calf muscles.
Symptoms
It is important to know that pain at the back of the heel is not always due to Achilles tendon rupture. It may be due to bursitis (fluid accumulation in the heel due to repeated irritation) and tendonitis (pain along the Achilles tendon due to constant friction and irritation). The above disorders tend to improve with use of pain medications and rest, whereas Achilles tendon rupture requires surgery and/or a cast.
Diagnosis
The diagnosis of an Achilles tendon rupture is made entirely on physical examination. Often, there is a substantial defect in the Achilles from 2-5 cm before it inserts into the heel bone. However, the main test is to determine whether the Achilles has been ruptured is the Thompson test. This essentially involves placing the patient on their stomach and squeezing the calf muscle. If the Achilles is intact, the foot will rise [plantar flex]. If it is ruptured, the foot will not move and will tend to be in a lower lying position.
Non Surgical Treatment
Treatment of a ruptured Achilles tendon is usually conservative (non-operative) in a Controlled Motion Ankle (CAM) Boot or it may require surgery. The current consensus based on research is to treat them conservatively since the functional outcome and chance of re-rupture is similar (7% to 15%) using both approaches but surgical intervention has a higher risk of infection. Achilles tendon surgery is usually considered if your Achilles has re-ruptured or there is delay of two weeks between the rupture and the diagnosis and commencement of conservative bracing and treatment.
Surgical Treatment
Unlike other diseases of the Achilles tendon such as tendonitis or bursitis, Achilles tendon rupture is usually treated with surgical repair. The surgery consists of making a small incision in the back part of the leg, and using sutures to re-attach the two ends of the ruptured tendon. Depending on the condition of the ends of the ruptured tendon and the amount of separation, the surgeon may use other tendons to reinforce the repair. After the surgery, the leg will be immobilized for 6-8 weeks in a walking boot, cast, brace, or splint. Following this time period, patients work with a physical therapist to gradually regain their range of motion and strength. Return to full activity can take quite a long time, usually between 6 months and 1 year.
Prevention
Prevention centers on appropriate daily Achilles stretching and pre-activity warm-up. Maintain a continuous level of activity in your sport or work up gradually to full participation if you have been out of the sport for a period of time. Good overall muscle conditioning helps maintain a healthy tendon.